How about a quick card today.  #simplestamping for sure.  Just two pieces of card stock, two stamps and some watercolor paper.  Large stamp images are perfect for this type of look and make it all so easy.  I washed some color onto watercolor paper first and then let it dry.  Then I stamped with the All That You Are stamp over the top.  Added the sentiment and felt like it needed just a bit more so I used my grid paper, ruler and my basic black marker and drew in a border.  The grid paper makes it so you can do straight lines the same distance around.  
If you would like to order your own grid paper, Stampin Up is making the floral design grid paper able to be ordered by anyone as of April 1. How pretty would that be on your work space.  Order soon though as it is only while supplies last.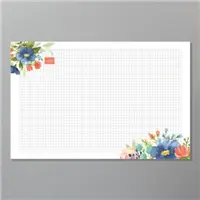 Here is a full tutorial on how I made today's card. 
If you would like to receive my News from the Owlery newsletter, keep scrolling and complete the sign up form. 
Thanks for stopping by today.  I always appreciate your comments .  
Happy Stamping,
Lynn
Supplies